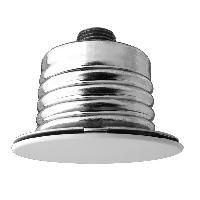 Series RFII — 5.6 K-factor
"Royal Flush II" Concealed Pendent Sprinklers
Quick & Standard Response, Standard Coverage
The Tyco® Series RFII Quick Response (3-mm bulb) and StandardResponse (5-mm bulb), 5.6 K-Factor, "Royal Flush II" Concealed Pendent Sprin­klersare decorative sprinklers featur­ing a flat cover plate designed to con­cealthe sprinkler. These sprinklers are optimal for architecturally sensitive ar­eassuch as hotel lobbies, office build­ings, churches, and restaurants.
Each sprinkler includes a Cover Plate/ Retainer Assembly and aSprinkler/ Support Cup Assembly. The separa­ble, two-piece assembly design pro­videsthe following benefits:
• Allows installation of the sprinklers and pressure testing ofthe fire pro­tection system prior to installation of a suspended ceiling orapplica­tion of the finish coating to a fixed ceiling.
• Permits the removal of suspended ceiling panels for access tobuilding service equipment without having to first shut down the fireprotection system and remove sprinklers.
• Provides for 1/2 inch (12,7 mm) of vertical adjustment to allowa mea­sure of flexibility in determining the length of fixed piping to cut forthe sprinkler drops.
The Series RFII Sprinklers are shipped with a DisposableProtective Cap. The Protective Cap is temporarily removed during installationand replaced to help protect the sprinkler during ceiling in­stallation orfinish. The tip of the Pro­tective Cap can be used to mark the center of the ceilinghole into plaster board or ceiling tiles by gently push­ing the ceiling productagainst the Pro­tective Cap. When ceiling installation is complete, theProtective Cap is re­moved and the Cover Plate/Retainer Assembly is installed.
As an option, the Series RFII Standard Response (5-mm bulb) "RoyalFlush II" Concealed Pendent Sprinklers can be fitted with a silicone Air andDust Seal. (Refer to Figure 5.) The Air and Dust Seal is intended for sensitiveareas where it is desirable to prevent air and dust from the area above theceiling to pass through the cover plate.
Sprinkler Identification Number (SIN)
TY3531 — 3 mm bulb
TY3551 — 5 mm bulb
Approvals apply only to the service conditions indicated in the Design Cri­teria section.
• TY3531 (3-mm Bulb) is UL Listed, C-UL Listed, LPCB Approved (Ref. No. 094a/10), VdS Approved (Cer­tificate No. G 4090007), and NYC Approved (MEA 353-01-E) as Quick Response.
• TY3531 (3-mm Bulb) is FM Ap­proved as Standard Response.
Factory Mutual does not approve any concealed sprinklers for quick response.
• TY3551 (5-mm Bulb) is UL Listed, C-UL Listed, FM Approved, LPCB Approved (Ref. No. 094a/9), and NYC Approved (MEA 353-01-E) as Standard Response.
Approvals for Air and Dust Seal
UL and C-UL Listed for use with the RFII Standard Response Concealed Sprinkler (TY3551).
Maximum Working Pressure
Maximum 250 psi (17,3 bar) by UL, C-UL, and NYC
Maximum 175 psi (12,1 bar) by FM, VdS, and LPCB
Temperature Rating
155°F/68°C Sprinkler with 139°F/59°C Plate
200°F/93°C Sprinkler with 165°F/74°C Plate
Discharge Coefficient K= 5.6 GPM/psi1/2 (80,6 LPM/bar1/2)
Adjustment 1/2 inch (12,7 mm)