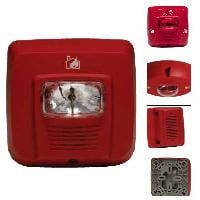 SYS Series - Selectable Output Horns, Strobes, and Horn Strobes
|
|
System Sensor selectable output horns, strobes, and horn strobes are rich with features guaranteed to reduce installation times and maximize profits.
The System Sensor line of notification devices offers the most flexibile and easy-to-use line of horns, strobes, and horn strobes in the industry. With red housing, universal fire symbol and a ceiling mount accessory available these devices can meet virtually any application. They also mount to a wide variety of back box sizes to offer the most flexibility in installation.
This line of devices features a wide variety of features that
simplifies installations. The mounting plate allows the devices to be compatible with a wide range of back box sizes. Settings for the strobe and horn are done using easy to set rotary switches on the back of the device. Synchronization is achieved without the use of additional modules; when powered with a filtered DC source, the strobe portion is capable of self synchronization for 30 minutes per NFPA 72.
Devices work on 24 volts DC or full wave rectified power. Three candela options are available for the strobe. On the horn strobe model, high and low volume are options for the horn as well as a continuous tone or temporal 3 output. The mini horn model has a continuous tone output and one volume setting.
Available accessories include a round trim ring to adapt the wall device for ceiling mount applications. Simply install the round ring over the square device for a perfect fit on the ceiling. An adapter plate is also available for the mini horn. It fits to a wider range of back boxes and fits with the family look of the horn strobe and strobe devices.
Features
• Mounting plate included for compatibility with a wide range of back box sizes
• Three field selectable candela settings: 15, 75, and 115
• Easy to use rotary dials for selection of candela and horn settings
• Built in synchronization feature keeps strobes in sync for up to 30 minutes
• Strobes Listed to UL 1638; Horns Listed to UL 464
• Horn settings on the horn strobe model include high and low volume, continuous or temporal 3 tone
• Round trim ring available for ceiling mount applications
• Universal Fire symbol is language independent
•
Trim plate allows mini horn to mount to a variety of backboxes and fit aesthetically with the horn strobe and strobe
Physical/Electrical Specifications
| | |
| --- | --- |
| Standard Operating Temperature | 32°F to 120°F (0°C to 49°C) |
| Humidity Range | 10 to 93% non-condensing |
| Strobe Flash Rate | 1 flash per second |
| Nominal Voltage | Regulated or regulated 24 DC/FWR1 |
| Operating Voltage Range2 | 16 to 33 V (24 V nominal) |
| Input Terminal Wire Gauge | 14 to 18 AWG* |
| Strobe and horn strobes dimensions(including lens) | 5.15" L x 5.0" W x 1.5" D (131 mm x 127mm x 38mm) |
| Ceiling trim ring dimensions (sold as a pack of 5) | 6.8 " dia / 1.5" depth (173 mm dia / 1.5" depth) |
| Mini Horn Dimensions | 4.6"L x 2.9" W x 1.44" D (117 mm x 74 mm x 37mm) |
| Mini horn trim plate (sold as a pack of 5) | 5.1" L × 5.0" W × 1.73" D (151 mm L × 129 mm W × 43 mm D) |
Full Wave Rectified (FWR) voltage is a non-regulated, time-varying power source that is used on some power supply and panel outputs.
* Mini horn is rated for 12 to 18 AWG
Model DescriptionModel Description
Wall Horn Strobes
SYS-HS Horn Strobe
SYS-HSR Horn Strobe, Red Lens
Wall Strobes
SYS-ST Strobe
SYS-STR Strobe, Red Lens with Chinese Lettering
Trim Plate
SYS-CTP Round Trim Ring for Ceiling Installation
SYS-CTPR Round Trim Ring for Ceiling Installations for Use with Red Lens Strobes and Horn Strobes
Mini Horn
MHR1 Mini-Horn, Red
SYS-MHTP Trim Ring for use with the Mini Horn